November 04. 2021
How To Pick & Choose A Dildo That Will Take You To Heaven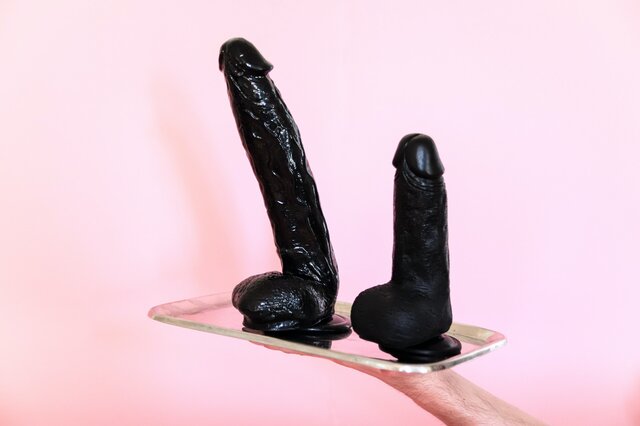 There's a lot to consider when picking out your first (Hankey's) toy; shape, size, texture, aesthetic, firmness, type, all of these things matter. If you're wondering where to start, here's a great guide to get you going!
How To Pick & Choose A Dildo That Will Take You To Heaven

The world of dildos really is a wonderland, isn't it? It's fun and enticing and also kind of bizarre (in a good way). There are so many options, and honestly, it can get pretty overwhelming.
So, when it comes to buying a dildo (especially if it's large, fantasy size & shape, you probably don't know where to start.
Maybe this is going to be your first toy... Or maybe you already have a few, but want something different and exciting?
Well, guys, gals, and non-binary pals, this is a handy little dildo guide, so you can find exactly what will rock your boat.



What should I consider when choosing a dildo?



Don't worry - no matter your preferences or level of experience, there is a dildo that will be right for you. When you're looking for a toy that will hit your sweet spot, you should consider a few things:

Shape
Type
Texture
Firmness
Size
Pretty simple, right? Now let's get into what each of these means to you so you can make an informed decision.



1.SHAPE



First things first - what shape would you like your dildo to have? The design of the toy plays a big part in how it will feel inside of you. Think about what sensations you would like to explore.
If you're a fan of G-spot or P-spot stimulation, you may want to consider a dildo with a curve at the tip. Like Goliath dildo (which is also girthy).
If you are looking for something that will be easier to insert, go for a toy that is tapered smaller towards the tip and widens gradually. For example, Davy's Tendril is both tapered & fun fantasy shaped.
If you like it deep, some dildos even have balls or a different kind of base or add-on that will deliver pleasurable sensations to your clit or perineum.
A double-ended dildo will bring you double the fun if you enjoy some DP or want to play with a partner.
Different shapes are also suitable for different orifices. Always make sure that any anal toy you get has a wide base. This will prevent you from inserting it too deep and having to make a (very awkward) trip to the ER.
Do not be afraid to experiment!
All of these features and more can mix and combine into shapes that are really wild and fun.
Don't necessarily stick to the basics. A dildo with an unconventional form may stimulate you in amazing ways you haven't anticipated, and it's well worth a shot!
Some people swear by the more extravagant dildo designs and the pleasure it brings them, going as far as to say they are better than most human-shaped dildos.
Yes, you read that right. Not all dildos are shaped like a realistic human penis. Speaking of which...

2.TYPE

After you've thought about what shape you want your toy to be, it's time to decide what type of dildo you want to get. But what types are there?
To make matters easier for you, we have clumped the toys into 3 main categories.

Realistic dildos
Those are the ones that have the shape, and sometimes even the color and texture of an actual human penis (or are at least come pretty damn close).
Some of the toys can get so realistic they are almost life-like. They come in a bunch of different sizes and it's even possible to get yourself an uncut one or one that simulates ejaculation. You can even get a kit to make a copy of your partner's penis!
These types of dildos don't have much variety in design, but might be suitable for people looking for strong visuals.

Non-realistic dildos
If you aren't fond of realistic detail, you might prefer to go for something a bit more simple or even abstract.
Some dildos are so far on the other side of the realism spectrum, that they don't even look like penises. They might be disguised as other objects or just look like some sort of abstract art piece.
But if you decide to display them as home decor, do so at your own risk.
A lot of non-realistic dildos play around with design and texture, and of course, size (this is a good guide when choosing big dildos. This results in more variety and some unique sensations for the one playing.
The non-realistic dildos also tend to put you in a position of plausible deniability. That might be important to you if you prefer your toys to be incognito, for one reason or another.

Fantasy dildos
The biggest advantage of sex toys is they help us experience pleasure in new and exciting ways and explore sensations that we otherwise wouldn't be able to! So why go for something basic when you can try something that's out of this world?
Fantasy dildos will be perfect for you if you want to experiment and try something completely different. They are inspired by the "non-human" like real animals or fantastic creatures, so they have bold designs the realistic dildos can only dream of!
Their imaginative shapes or heavy textures feel different and amazing inside you. They can hit sweet spots you didn't know you had and stimulate you in ways conventional toys simply can't.
Animal dildos, tentacles, dragon dildos, unicorn dildos, alien dildos…. And so many more. They are ideal for those who want to get their freak on and push the limits of their body and imagination. This is something Mr.Hankey's Toys has really specialised in by the way.
And more often than not just look way cooler than the traditional dildo.
Who knows, they might even help you discover a new kink.

3. TEXTURE

After you've decided what type of dildo you want, comes the question: What do you want the surface of your dildo to feel like?
If you're a beginner or are very sensitive, you may want something smoother. If you're looking for a more intense sensation you might want to go for something with more texture.
Ridges, swirls, bumps, and veins are all examples of texture your toy may have. Every one of them delivers a uniquely pleasurable sensation and there are tons of different combinations.
The textures themselves can be light or heavy. The best way to find out what works for you is just to try them out. Wouldn't that be fun to research!
Generally, realistic toys won't have much texture to them, because they're made to be life-like. So if you like the idea of a crazy pattern tickling your insides choose a non-realistic or fantasy dildo and make sure to use a lot of lube.
Be extra careful when getting a textured dildo for anal play. It may feel fantastic for the more experienced of you, but don't push it too hard if you're a newbie - intensity might cross over into painful territory.

4. FIRMNESS

Firmness is probably the most confusing thing when it comes to dildos and sex toys in general - at least when you're shopping online and can't physically hold and feel the toy for yourself.
Most manufacturers will list "extra soft", "soft", "medium", etc. in the description of the toys. But what does that mean? Hankey, for example, sells 3 different firmness options for easy choices + they have great videos showcasing the dildos.

Extra soft and soft dildos
These dildos are floppy - they can't stand on their own. Their density is pretty similar to gummy candy. The benefits of soft dildos are that you can take on bigger sizes and heavier textures more comfortably. (That's why a lot of fantasy dildos are on the softer side). They can be folded in half for some experimenting, like making the toy girthier for that extra stretch.
These dildos aren't ideal for thrusting motions - it's not impossible, but it's a challenge. Instead, you could just leave the toy inside your vagina or anus and tighten your muscles around it for some hands-free play.

Medium-hard dildos
This is the most common density for a dildo. They are still soft and very bendy but can stand on their own. They are very suitable for thrusting. Any texture they might have will be more noticeable, because the harder the toy is, the more you will feel its texture.

Firm dildos
Firm dildos are either not very bendy or not flexible at all. They can be made of silicon materials, but also out of glass or even metal. Firm toys are suitable for those of you who are fans of "harder" and more aggressive sensations. Be very cautious when choosing a firm toy with texture - you don't want to bite more than you can chew.

Dual-density dildos.
"Dual-density" means that the toy has a very firm core, with a much softer layer on the outside. You'll feel the differences in density when squeezing, which can be awesome when you use your vaginal or anal muscles!
Materials have a lot to do with the firmness of your dildo. Always buy toys made from body-safe, non-porous materials that can be cleaned well. You don't want irritation or bacteria to spoil your fun, do you?

5.SIZE

Lastly, the most obvious question - what size is the right one for you?
Your choice depends on your level of experience and personal preference. Maybe you're looking for something rather small and cute. Or maybe you're in the market for a toy that'll give you a nice stretch or a deeper penetration.
When considering size, you should think about the length and the width of the toy. As a general rule the lengthier the toy, the girthier it gets.
When looking at the length of the dildo, there may be two measurements in the description. There is the length of the whole toy and also the insertable length. The second one is what you should pay close attention to because that's the part that is going inside your body.
The girth of the dildo is usually listed as the diameter of the toy. Since some dildos are tapered small toward the tip or are otherwise irregular in shape, the description may either give you a range for the diameter measurements or list the widest diameter of the shaft. This is a good guide when looking for thick dildo recommendations.
The numbers however probably won't help you visualize the actual dimensions of a toy. It may help you to know that the average penis size is around 5.4 inches in length and around 1.5 inches in girth.
If you still feel unsure, the best course of action would be to get a ruler and see for yourself what the numbers represent. To help you visualize you can get any phallic object you have in your house and measure that. Do you want a toy that's bigger or smaller than that object?
If you're not experienced in penetration it's always a safe bet to start smaller and work your way up. You can still spice up your playtime by exchanging the bigger size for more interesting shapes, textures, and styles.

What to buy?

So, now that you have the basics, where will you find a dildo that will really make your toes curl? And what to choose?
If you choose the proper size, realistic dildos are a pretty safe option but they can also get boring quite fast.
No matter if you're a beginner or pretty experienced, experimenting is always a fun time! So why not challenge yourself and try something freakier? We promise you it's worth it!
If you want to explore unusual shapes and awaken your inner beast, you might be a fan of knotted canine dildos. They can give you a very full feeling and a nice stretch at the knot.
Size queens and kings and depth play fans might enjoy horse dildos. (You've heard the phrase "hung like a horse", right?)
And while we're on this topic Hankey has a great Centaur horse dildo to ponder at.
If you think wild textures are a great idea, tentacles and dragon dildos may be your kind of fairy tale.
The most popular fantasy dildos are from Mr. Hankey's Toys, who also give you the option of customizing your toy. So you'll be able to use all you learned today to make something that will be ideal for you and your preferences.

What now?

Well, since you're now a (s)expert in All Things Dildo it's time for the fun part - choosing and ordering your new toy.
And after that comes the even better part... Have fun experimenting!


•