November 02. 2021
Huge Dildo Insertion Guide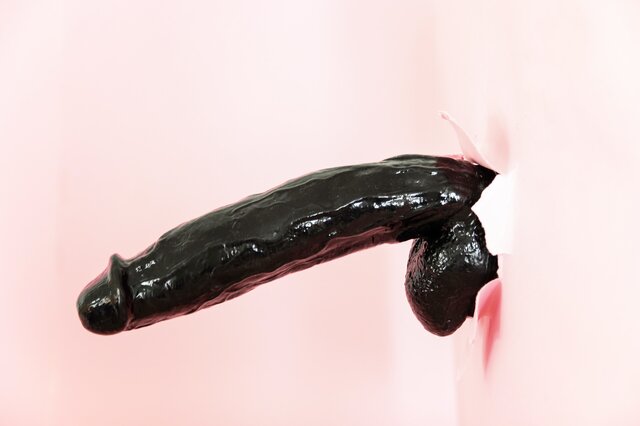 Curious about huge dildos and how to use them? Check out this guide that has all the answers!
Huge Dildo Insertion: How to Insert a Large Dildo Smoothly and Safely

If you've tried using dildos before and you're ready to go bigger, congratulations!

Variety is the spice of life. And there are millions of types of dildos in the market to try.

But before jumping the big gun, equip yourself with knowledge on how to insert a large dildo safely and how to choose the right one for you.

Dildos are an investment, especially when you're taking the journey of sizing up. Make sure it's worth the eye-watering leap.

Why Use a Big Dildo?

Glad you asked.

You might be one among the many people wanting to know why some use gigantic MONSTER dildos. (Or, maybe, you're curious about trying it yourself.)

The countless Reddit threads asking the same question testify that.

To some guys, having partners who use a huge dildo somehow "emasculates" them. Dildos similar to the average size of penises exist, but why go for the bigger ones?

For some, it's for practicality. A user called u/blueavenger says, "We don't use the whole thing in us--almost half of mine is for holding onto."

But u/thumpersoldiersgirl hits the spot with her reply, "Well, for one, dildos are NOT about you. Some women just like huge dildos that are larger than anything that is physically possible in real life."

Okay, but what's the point?

To sum it up in one word: pleasure!

Like many sex activities, the main point is pleasure physically, psychologically, and emotionally. To answer it in many words:

The sensation of fullness feels very, very good.
Longer and thicker dildos hit the internal hot spots.
Getting stretched feels pleasurable.
Pushing yourself to the limit (safely) can fulfill a fantasy.
Visually pleasing - for the user (for solo play) and both the receiver and giver (for partnered play).

So, what does it feel like?

And does size really matter?

According to u/girl_is_unicorn, "It's less to do with the units of size, and more to do with the visual and the feeling of fullness. Seeing a big dildo and getting it in, that full feeling is very intense."

Of course, dildos are not just for anyone with a vagina. Men and women use big dildos on their rear-end too.

As an AMAB, u/CatDragon33 shares the experience of using dildos anally, "There are many different sensations at play. Both in girth and depth, there's a big deal of psychological excitement involved, and I'd argue that's the biggest side of pleasure."

From a bi man's account, u/BiBhamGuy describes it as "so painful but I never felt more alive. The adrenaline, the naughtiness, and the combo of pain and pleasure was addicting."

How to Take a Big Dildo

Clean it first, please
Dildos, especially larger and longer ones, go into your deepest internal territories. Getting bacteria into your bits could lead to infection.

Always be hygienic, healthy, and safe by cleaning it before every use -- even when it's brand new.

Mister Hankey's Toys recommends that customers wash their dildos before using them for the first time. All of their dildos are tested to be safe from dangerous chemicals, but it does have a little sticky residue initially. This residue is vaseline, or something similar, which is a release agent when taking the dildos out from the mold during production.

Simply wash the dildo with hot water and mild soap. If you're sensitive to soaps, you may invest in a sex toy cleaner.

Lube, lube, and lube some more
You can never have too much lube.

Thick, water-based lubricants are good. But silicone lubes often feel best with dildos, and they are longer lasting. Unfortunately, not all dildos are safe for silicone lubes. Make sure to use the right lube for your dildo.

Dildos from Mister Hankey's Toys are safe for any type of lubricant, including silicone lube. So you can easily opt for any lube that floats your boat.

One thing to avoid, however, is lubricants with a numbing agent. Big dildos could go deeper and stretch you out. When you numb the sensations of pain in your body, you might push your body to your limits without knowing it.

Slow and steady
It's a marathon, not a sprint.

Whether you're playing alone or with a partner, get yourself in the mood. The more aroused you are, the more your insides expand. Forcing the dildo to go in when you're not ready could cause an injury.

Even if you're not a novice in dildos, start small and work your way up. You can't go from zero to big in one session. Some naturally find it easier to size up, while others need more training.

When inserting the dildo, find the best position for you. Lying on your back with your legs spread is a good position to start. Place a pillow underneath your hips for better leverage.

You may also squat down on the dildo. This position gives you control as you lower yourself into the dildo.

Have fun!
Once the dildo is in, do your thing!

Big dildos could reach and stimulate spots in your body you never knew existed before.

If you're using a textured dildo, deep thrusting can feel very stimulating. If you're using more rigid dongs (like dildos made of glass), you can do the motion of milking your G-spot.

Another thing you can experiment with is temperature play. Mister Hankey's Toys dildos, for example, are made of silicone and can be heated in the microwave. This gives you a more realistic "warmth" similar to a real penis. Before inserting it into your vagina or anus, make sure it's not too hot to avoid scalding yourself.

If you're feeling even more adventurous, you may even try out double penetration.

Listen to your body
If there's only one thing you can't afford to forget from these tips, it's this: if it hurts, stop.

Using massive dildos comes with intense sensations, including some pain. However, this pain should come with pleasure. If it gets too painful, you must stop. Avoid pushing your body further than it could handle to prevent any injury.

Pull out slowly
Just because you're done, doesn't mean you can just pull the dildo out in a single swoop.

Exiting the dildo from your anus or vagina should be done as carefully as you entered. Relax your muscles first, take a deep breath, and then pull the dildo out. Let the dildo exit with grace to avoid hurting yourself.

How to Choose a Big Dildo

Now that you know how to use a big dildo, it's time to start shopping for the best big dildos. (Yay!)

In a lot of ways, big dildos are similar to regular-sized dildos in features. The BIGGEST difference mainly is its BIG size. With that, there are some considerations you need to pay attention to compared to when you're buying regular dildos.

Firmness: hard versus soft
Dildo firmness is essential, especially when you're going for a bigger dildo. Ultimately, this boils down to personal preference.

It's tricky to figure out the right firmness because your perception of how firm or soft a dildo is most likely differs from another person. Furthermore, one toy maker's "soft" might be another maker's "extra soft."

The best way to go is by squishing and squeezing the toy itself. But when you're buying online, that's not possible.

If you're eyeing a specific toy maker, study their firmness scale. In Mister Hankey's Toys, two firmness options are available:

Medium Firm - The firmness feels similar to a fully erect penis. It stands hard, proud, and not too bendable.
75% Soft - It feels comparable to a penis that is 75-80% erect. It stands firm but is more flexible and bendable.

If it doesn't sound like what you're looking for, Mister Hankey's Toys can customize the dildo's firmness according to your preference at an additional charge.

Are you at a loss where to start? We suggest going for a softer dildo.

Size can affect the firmness of the sex toy. A huge dildo, especially those with a bigger girth, has more volume, making it naturally firmer than dildos that are smaller or longer yet thinner.

Size: how big is big for you

Just because you're going big doesn't mean you should choose XXXL from the get-go.

When erect, the average size of a penis is between 5.1 to 5.5 inches. Since most dildos are modeled after penises, dildos from 8 inches and beyond are considered huge.

Dildo sizes can be long and thin, short and thick, or long and thick. Eye out for the following metrics when it comes to sizes:

Full length - The overall length of the dildo from its tip to its base.
Insertable length - The actual length that goes inside your body.
Width - The measurement of the widest part of the dildo or its diameter. For reference, an average penis is 1.5 inches wide. Meanwhile, a coke can is 2.5 inches wide. A large dildo can go up to 3 inches.
Girth - The dildo's circumference. A coke can has 7 to 7.75 inches. You get the picture.

Dildos are made with realistic, proportionate sizes. As a general rule, the longer the dildo, the thicker it is. A dildo like the Latin Lover goes in deep while giving a good stretch.

But there are also dildos that are short and stocky, like Clyde. It's the perfect dildo if you like getting stretched without going into the deep end.

Meanwhile, if you're into depth play, Long John is the ideal partner. It goes on and on in length, but it's not too thick, so it goes deeper easier.

Look: realistic or fantasy

Humans are visual creatures.

Some of us get turned on with dildos that look like and feel like a real penis. With its phallic-like appearance, realistic dildos have veins, tapered tips, and even balls. Some of the best realistic dildos to try are:

Big Daddy - Its texture feels very close to a real penis with its work-of-art natural vein patterns. Also, Big Daddy is really a colossal, BIG daddy.
Can Opener - If you're into an uncut penis. It only comes in one size, but it really opens you up! Its tapered tip, however, makes it easy to go in despite its thick girth.
Rentman - Molded from a real penis, the Rentman is as real as it gets. It's a gorgeous dildo with a lifecasting that gets all the veins, folds, and wrinkles right.

The fun of sex toys is that you can let your kinky fantasies run wild. After all, if you're spending on a dildo, why not experience sensations that you can't get in real life?

Fantasy dildos are unique sex toys that depict mystical creatures. Dragons, tentacles, aliens… the sky's the limit. Here are some of the must-tries:

Dragon - A massive and filling reptilian dildo. Its scaly textures are unlike any other, giving you extreme stimulation from every movement.
Venomous Tongue - With its tapered tip, this alien tongue will slither its way into your deepest regions that no human tongue could ever reach.
Prince Charming - Your knight in shining armor who will stretch you out and stimulate you with its defined bumps. It's short, stout, and brutally thick.

For more, read this guide that reviews 27 greatest fantasy dildos.

Material: as long as it's nonporous
Dildos are made from a variety of materials. The most commonly available are silicone, jelly or elastomer, softskin, glass, and acrylic.

Silicone dildos are the most popular because it's flexible, adapt to body temperature and are durable. It comes in various shapes, textures, and designs.

Jelly or elastomer dildos are affordable, but don't last long. They're too soft and serve better as a tester version.

Softskin, as the name suggests, is made to be very similar to a real penis in how it feels. However, it's very difficult to clean. Using a condom is recommended, which kind of defeats the purpose.

Glass and acrylic dildos are very firm. It's built for anyone who's looking for a rock-solid dildo. Since glass can take the heat, it's a good dildo for temperature play.

Whatever you get, it's best to buy nonporous dildos.

Jelly and softskin dildos are porous. Silicone and glass are generally better because they're nonporous. Meaning they are easy to clean and last longer.

Porous materials trap bacteria even after it's washed.

Dildos go inside your vagina and anus. If they are not 100% clean, you can risk getting a yeast infection, urinary tract infection, or sore throat, among others. Yikes!

Check this guide to safe materials if you want to understand the issue & know solutions better.

Final Thoughts
Like they always say, go big or go home.

Everyone has their own kinks. But to get the most pleasurable experience when going bigger, it needs to be done properly and safely. Educating yourself and choosing the right size-royal dildo for you can lead you to toe-curlingly, eye-rollingly good sexcapades.




•