October 30. 2019
How to Clean Giant Sex Toys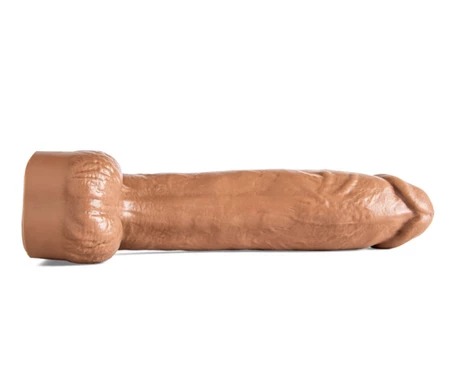 You finally got the courage to buy a sex toy to play with, or you've just introduced one of our new big boys into your play. But after a life-changing climax—that only a giant sex toy can give you—-you now have to clean it. So now what? What do you do?
Getting dirty in the bedroom shouldn't be in reference to the cleanliness of your toys. We are proud to have an inclusive, sex-positive community that knows this!
Although it's not the most glamorous part of having a sex toy, cleaning your toy is necessary. Nobody wants some bacterial infection in their flowery booty hole or vagina or give one to their partner. You don't want to destroy your sex toy by cleaning it incorrectly, either.
To be safe, here are some tips on how to clean your giant sex toys to enjoy them for posterity. When you properly clean your dildo, you will avoid spreading nasty diseases and enjoy more time climaxing.
According to Brown University and Women's Health, how you clean a sex toy largely depends on what material the sex toy is made of. Before you clean any toy, you need to make sure you know the type of material it's made of. Every material responds differently to cleansers, heat, and boiling water.
To avoid damaging your product, read any instructions that come with its packaging. If this info is lost or missing, contact the company you bought it from to get information on your particular product. Although there are many types of material, to narrow our scope in this article, we will only focus on how to clean silicone toys.
Silicone is a pretty resilient material and cleaning silicone toys is pretty easy. You can boil it, heat it up, and it can survive most cleansers and soaps without getting damaged. In fact, there are four easy ways to clean a dildo made of silicone: you can boil it for 10-15 minutes, throw it in the dishwasher, wash it with anti-bacterial soap under warm water, or use a state-of-the-art UV germicidal light which is purported to kill 99% of bacteria. However, this latter method isn't perfect and does have its risks. When cleaning your device, keep these things in mind:
Make sure you use small amounts of mild, fragrance-free soap or soap created for sex toys.

Don't submerge any sex toy that contains electronic components underwater.

After washing your toy, make sure you use a clean towel or cloth.

Wash your toys before and after using them.

Keep your toys in a dry, cool place.
If you follow these guidelines, the chances of spreading diseases drop dramatically. Your toy will also stay in pristine condition longer, so remember to keep these things in mind. If you want your silicone dildo to stay strong, avoid alcohol-based products, as these can dry out the silicone and shorten its lifespan.
Keep these tips in mind and your dildo will stay in pristine condition longer, saving you money in the long run. If you're looking for a new toy, check out our exhilarating collection of realistic and fantasy dildos. We offer fast 2-3 day shipping on U.S orders. Subscribe to our newsletter to receive exclusive discounts to our huge selection. As always, it's 100 percent spam-free.
•