October 23. 2019
How to Store Silicone Toys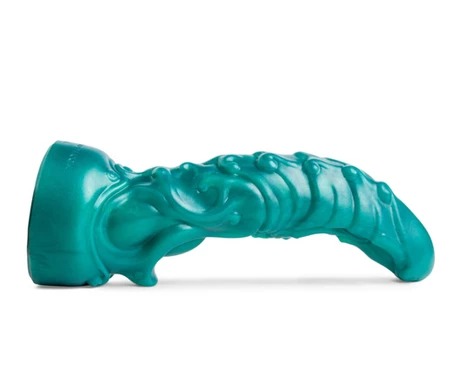 After an amazing session stimulating your g-spot with your favorite monstrous dildo, it needs to be put away at some point. So how do you properly store your silicone sex toys? Since these sexual playthings are unlike anything in your house, you can't leave them just anywhere. And unless you're a very free spirit, you probably don't want guests seeing your giant dildo out on your coffee table, right? How you display your prized collection is entirely your call. However, for health reasons, this is probably not the best idea. They will collect dust and dirt and become a hotbed for bacteria.
So what's the best way to store a dildo? At Hankey's Toys, we are the sex toy experts and found the best ways to store your toys to help you get the most out of them. Read the sections below to learn more.
1. Store It In a Cloth Bag
How to properly store silicone sexy toys starts simply by choosing what material you should store them in. If you want to save money and don't want to splurge on storage, you can easily wrap your dildo in a clean cloth or towel, or place it in an inexpensive cloth bag. It's cheap, and it will keep your dildo protected from dirt and dust. You can find a cloth bag online or, if you want to go really cheap, use a clean towel you already own. Don't just use any type of bag, though. Some material—like silicone, rubber, or gelatin—can absorb chemicals from plastic which may degrade the material quicker, so avoid plastic bags.
2. Store It In A Box
If you're looking for something a little more secure and discreet than a bag, a specialty storage box is your best bet. You can find specially made boxes for sex toys quite easily online. Many boxes have a combination lock or a slot to place your own. A locked box is the best way to store a dildo securely, safe from prying eyes. It's also less likely to get damaged by water or from being crushed.
3. Don't Store Sex Toys Together
If fancy yourself as a connoisseur of bodacious and orgasmic-enabling sex toys and have your own collection, you need to store them carefully. Sex toys made from materials like silicone, rubber, and TPE can react to each other and may get ruined. Fortunately, we at Hankey's Toys only use platinum silicone, which does not damage our toys when placed next to each other. It's a myth that silicone toys will melt each other, particularly in the case of high-grade materials like ours. Still, for hygiene purposes, and if you are storing toys from multiple brands in one place (where the silicone may not be platinum silicone), we recommend storing your toys individually.
4. Inspect Your Sex Toy Before and After Storing It
If you have a sex toy that's old, falling apart, or is no longer in use, it may be time to throw it out. Inspecting your toys is a great way to keep track of their condition. This way you won't pull out a disaster of a dildo that will make your partner run for the hills. Having a collection can be great, who doesn't want variation, but holding on to a toy past its prime is probably not the best idea.
If you're looking for a new toy, check out our wide selection of girthy, wild toys. We offer fast 2-3 day shipping on U.S orders. Subscribe to our website to receive exclusive discounts to our huge selection of Hankey's Toys. As always, it's 100 percent spam-free.
•